Rachel P.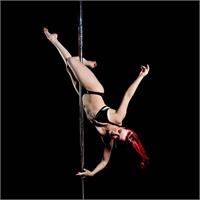 Rachel Paul began training circus arts in 2008 and has since traveled the US and Mexico to perform as an aerialist. She began her pole adventure in 2014 at Elite Pole & Fitness and immediately fell in love. After only a year, Rachel was invited to join the Elite Pole Teacher Training Program, an extensive pole teaching and assisting program offered to qualified students here at Elite. Since completing her training Rachel has become one of our head instructors at Elite, with the ability to teach all levels and styles! She continues her pole education by traveling the world to train with as many instructors as possible.
Rachel P. instructs the following:
This level is open to all students who have completed Intro and are ready to invert and work on level 1 and 2 skills, which includes advance spins, climbs, choppers, leg hangs, combos and more!




A full body strength training class using the poles! Get fit, burn calories and enhance stamina on the pole. Must have taken at least one Intro to Pole class prior to starting this class.




This is our first level at Elite! If you are new to pole you must take Intro as your very first class. We will learn how to spin, climb, and sit on the pole, along with strength training techniques to help you advance to Pole Level 1. No prior experience necessary for this class.




This class is open to ALL levels! Intro students and up welcome.




This class is a fun, sexy, pole class which focus's on dance flow choreography with the pole. Each class will feature a new dance combo. This class is open to all beginner and Intro level students. Must have taken at least one Intro to Pole class prior to starting this class.




In level 1 students will focus on more advance spins and climbs, as well as spin pole. Students will learn the proper techniques to invert and leg hang, and conditioning skills which will help you advance to the next level! You must have completed Intro to Pole and have instructors approval to attend this level.




Open to ALL level pole students who have taken at least one Intro to Pole class.