Fifi B.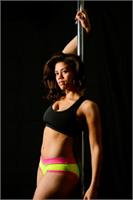 Fifi was drawn to pole dancing because of its grace, flow, and strength. After training for several years she was invited to join the 2015 Elite Pole Teacher Training Program, an extensive pole teaching and assisting program offered to qualified students at Elite. After completing our program, she immediately became part of our instructor team, and has since become one of our most sought after instructors. She recently placed 1st in the 2018 Pole Sport Organization (PSO) Floorwork & Low Flow competition and is also an elevatED Certified Flexibility Instructor. With her students, Fifi hopes to continue growing and sharing her passion for the art of Pole Dance.
Fifi B. instructs the following:
60 minutes of active and static stretches guaranteed to improve strength, stability, circulation, flexibility and overall well being. Learn the proper and safe technique to enhance your flexibility, taking it to the next level.




In level 1 students will focus on more advance spins and climbs, as well as spin pole. Students will learn the proper techniques to invert and leg hang, and conditioning skills which will help you advance to the next level! You must have completed Intro to Pole and have instructors approval to attend this level.