Frances Ann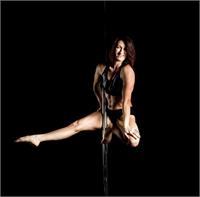 Frances Ann is a professional educator with a Bachelors Degree in Secondary Education/Biology and over 20 years experience in the health and fitness industry. Holding multiple certifications in group fitness, personal training, yoga, geriatric fitness cardio kickboxing and sports conditioning, she is dedicated to helping others achieve their fitness goals. This former NPC Women's Fitness/Figure/Bikini competitor found pole dance fitness four years ago and has been hooked ever since. She has performed in showcases and cabarets up and down the east coast, and has been teaching workshops for local studios Earning professional status this year, Frances placed 2nd in the IPSAF World Pole Art Championships in Torino Italy. She is also a competitor and judge with Pole Sport Organization, and is sponsored by RTN Supplements and Trick-Tac Grip.
Frances Ann instructs the following:
Intermediate Pole Performance class, performing in Nov. Showcase. Pre-Registration Required!




In level 2 - 3 we will begin focusing on more advance spins, grips, climbs, conditioning, spin pole, handsprings and combos. You must have a solid climb, chopper, inside and outside leg hangs, butterfly and layback and be approved by an instructor to join this class.