Heather Chow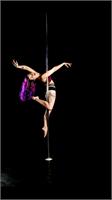 Heather (also known lovingly as 'Chow') started her love of dance when she was just 9 years old. She studied as many styles as she could up until she went to college. After graduating, she wanted to rekindle her love of dance through trying something new. In 2015 a coworker told her about Elite Pole & Fitness, where she took her first class and has never looked back. Heathers dance background helped her advance quickly and in 2017 Heather was invited to join the Elite Teacher Training Program, an extensive teaching and assisting program offered here at Elite. Shortly after finishing the training program, Chow was brought on as a regular instructor on our weekly schedule. She pulls on her knowledge of dance to bring her own unique style and technique to the classroom and performance stage.
Heather Chow instructs the following:
This class is a fun, sexy, pole class which focus's on dance flow choreography with the pole. Each class will feature a new dance combo. This class is open to all beginner and Intro level students. Must have taken at least one Intro to Pole class prior to starting this class.




This is our first level at Elite! If you are new to pole you must take Intro as your very first class. We will learn how to spin, climb, and sit on the pole, along with strength training techniques to help you advance to Pole Level 1. No prior experience necessary for this class.




This class period is dedicated to practicing your skills. An instructor will be available to help warm you up, give you pointers, and spot during practice hours. Other than the warm-up, this is a self guided class with no instruction. All levels welcome (all students must take at least one Intro to Pole before attending any all levels class).