Danielle Carthorne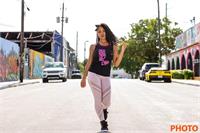 Danielle Carthorne was born and raised all around Prince Georges County, Maryland. She started dancing at the tender age of 6, training in Modern and Jazz. During her High School years, she danced with the Pep Band for Basketball Games, Culture Shock DC, and Multiple Dance Ministries in church. While attending John Jay College of Criminal Justice in New York, NY she performed with the dance team, Universal Image, and was introduced to Dancehall, Soca, and Salsa styles of dance. Once she relocated to the Philadelphia area, she took one Boss Chick class and was hooked. It was in the midst of the class she knew she had to be a part of the company. Danielle hopes she can bring the excitement to other boss chicks as she received from her very first class.
Danielle Carthorne instructs the following:
The Boss Chick Dance Workout is a hip hop, dance hall, & afrobeats dance workout that will have ladies poppin, lockin, and droppin your way to a bangin new body. The class features dance combinations in the styles of hip-hop, dancehall, and street dance along with an abs series and stretch series.