Akayla Butler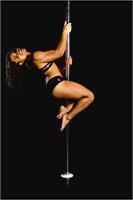 Akayla began pole fitness in 2015 and fell in love with it immediately. She was a cheerleader for 9 years and naturally gravitated towards pole after graduating high school. Akayla's cheerleading background has helped her achieve impressive pole strength and in 2017 Akayla completed the Elite Pole Teacher Training Program. She is currently a student at Rowan University where she studies Health and Exercise science and is working towards her personal training certification. She is also a group fitness instructor, helping others to accomplish their weight loss goals. When she's not working or studying she loves to train, eat, read and try new things. In the November of 2017 she participated in her first pole competition. It lit a fire in her and she is excited to keep performing for others in the future. She hopes to continue a lifetime of fitness and fun.
Akayla Butler instructs the following:
Kids class, ages 8 - 13. Work on spins, inversions and age appropriate tricks.




This is our first level at Elite! If you are new to pole you must take Intro as your very first class. We will learn how to spin, climb, and sit on the pole, along with strength training techniques to help you advance to Pole Level 1. No prior experience necessary for this class.




This class period is dedicated to practicing your skills. An instructor will be available to help warm you up, give you pointers, and spot during practice hours. Other than the warm-up, this is a self guided class with no instruction. All levels welcome (all students must take at least one Intro to Pole before attending any all levels class).