Jessica Paris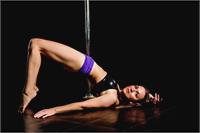 Jessica has been pole dancing for 4 years. Though she's had no previous formal dance training she fell in love with the art and the strength that comes along with this unique and fun workout. Being a working musician has helped with dancing to the rhythm of the music, while being an Army Veteran has given her the determination and strength to keep advancing in her pole fitness journey. Jessica has performed in multiple Pole Showcases and most recently Jessica completed the 2017 Elite Pole Teacher Training program. Jessica brings a fun and lighthearted atmosphere to all of her pole classes.
Jessica Paris instructs the following:
This is our first level at Elite! If you are new to pole you must take Intro as your very first class. We will learn how to spin, climb, and sit on the pole, along with strength training techniques to help you advance to Pole Level 1. No prior experience necessary for this class.




Circuit style workout class which incorporates Pole and Pilates strength training. No pole experience necessary!