Amie A.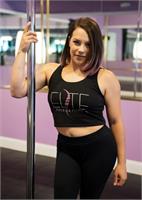 Amie Archut is a trained and seasoned dance professional whose passion for dance is evident in everything she does, from teaching to performing. Amie has been a student of dance since she was just 10 years old, training in Ballet, Gymnastics, Jazz, Lyrical, Hip Hop and Salsa. She attended the Philadelphia Creative and Performing Arts High School as a dance major and obtained a Bachelor's Degree in Physical Education from Florida International University. While living in Miami, Amie discovered the art of Pole Dancing. She began training in pole in 2011 and brings her technical dance background into everything she does. It was also while in Miami that Amie took her first yoga class in 2007 and instantly fell in love. After moving back to Bucks County, PA Amie decided to fulfill a lifelong dream of becoming a certified yoga instructor. Amie completed her 200 hour yoga teacher training program in the summer of 2014. Along with her yoga certification she is also a Reiki level II practitioner and incorporates this beautiful healing technique into all of her classes. Amie hasn't wasted any time in putting her degree in Education to use, as she has taught a variety of classes including Salsa, Zumba, Yoga and Pole fitness. In 2014 Amie achieved her greatest accomplishment yet, becoming the owner of Elite Pole Fitness. Amie has put her heart and soul into becoming the best teacher and leader she can possibly be, and is constantly striving to learn more about Pole, Yoga, and business. Her drive, ambition, and passion is evident in everything she does.
Amie A. instructs the following:
Pole Level 1 - 3 is a mixed level Int./Adv. Pole class. We will take a pole level 1 move or combo and give options on how we can advance these tricks up to Level 3. Students will stop wherever their abilities allow. Must have instructor approval to advance to Level 1. We also recommend being in Pole level 1 for several weeks prior to entering this mixed level class, as it will move a bit faster than our strictly level 1 classes.




Mixed level Vinyasa flow Yoga (this class welcomes beginners). Modifications offered for Beginner to Intermediate students!




In level 1 students will focus on more advance spins and climbs, as well as spin pole. Students will learn the proper techniques to invert and leg hang, and conditioning skills which will help you advance to the next level! You must have completed Intro to Pole and have instructors approval to attend this level.




This is our first level at Elite! If you are new to pole you must take Intro as your very first class. We will learn how to spin, climb, and sit on the pole, along with strength training techniques to help you advance to Pole Level 1. No prior experience necessary for this class.




In level 2 - 3 we will begin focusing on more advance spins, grips, climbs, conditioning, spin pole, handsprings and combos. You must have a solid climb, chopper, inside and outside leg hangs, butterfly and layback and be approved by an instructor to join this class.




This class is a fun, sexy, pole class which focus's on dance flow choreography on the pole and the floor. Each class will feature a new dance combo. This intermediate level is open to only students level 1 and higher or with instructor approval. Leg warmers, or knee pads, and socks are recommended and heels are optional.




Open to ALL level pole students who have taken at least one Intro to Pole class.




Are you ready for Pole Level 1 or looking to brush up on your basics?

Join this Pole Level 1 Prep class to work on advance spins, forearm climbs, basic inverts and chopper conditioning!

Pre-req: Must be able to do a basic climb and a fireman spin.